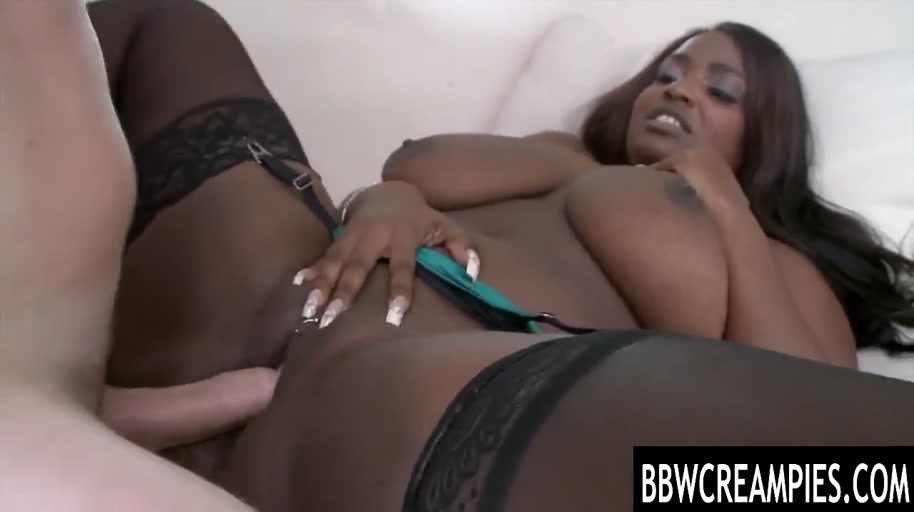 Stunning monster tits babe Olivia Jackson is excited to shoot her ebony BBW creampie debut today. With her unbelievable assets, she has been able to attract an endless number of wanton men before. All willing to do anything for just a touch of her spectacular mammaries. But none have been able to satisfy her lust for cock. And most importantly, none have brought her the gift she has always wanted. That being, a thick hot pie to fill up her desirous pussy. Preferably, the delivery man will be hung white stallion, with a girthy staff, one capable of keeping up with her amazing body. The dark-skinned bombshell might be a bit demanding. But we cannot really blame her. With all of that flawless chocolate goodness she carries around. She has very much earned the right to mate with only the most deserving of well-endowed studs who can match her prowess.
Exquisite Olivia receives her ebony BBW creampie
The black beauty has finally found a suitor. An extremely lucky man, who is about to have the best sex of his entire life. His member matches the requirements. And it does look strong enough to withstand the mind-melting pussy pumps it is about to receive. However, Olivia can't be too confident, at least not before she takes it for a spin. After allowing the nearly-swooned bloke to revel in the perfection that is her massive rack. She takes her time serving him with her sweet lips and natural jugs. The blowjob and tit fuck are more than enough to turn his dick into pure diamond, she can only hope it will stay that way for more than a couple of minutes. After bouncing on his shaft in both cowgirl positions. Ravishing Olivia lies on her back and spreads wide, getting an ebony BBW creampie that she will cherish forever.