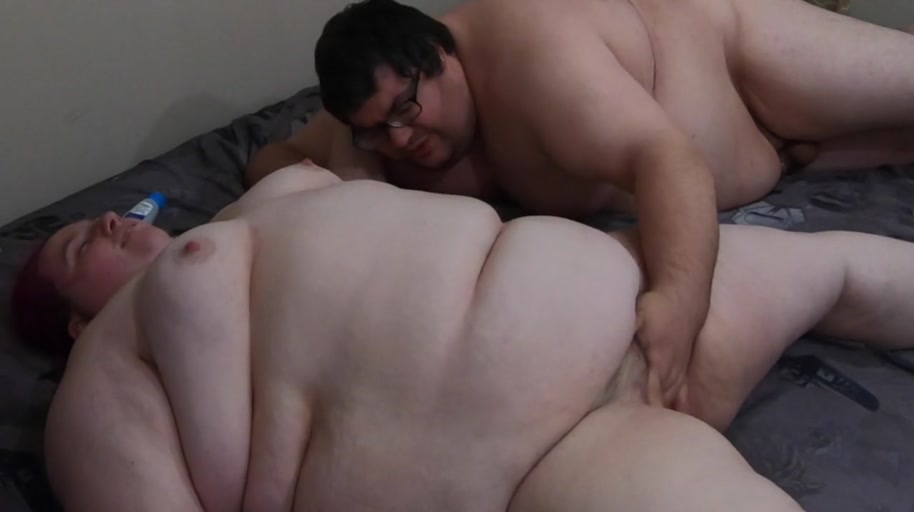 This obese young man will be delivering his first huge plumper creampie to his GF tonight. Lying down on bed with her, the pink-haired SSBBW snogs with her lover as she strokes his shaft. The two have been together for some time now. Meeting through a mutual friend, and being both quite chunky. While also preferring people who look like them. Meant that it was only a matter of time before one of them approached the other with an offer of a relationship. Or at least an attempt to make one happen. And eventually, that is exactly what happened. It didn't take much convincing for her to reciprocate his advances. As she herself has been planning on making a move ever since they met for the first time. And so started a smutty relationship filled with daily fornication and poundings in every position the two horny fatties could think of.
She deserves a huge plumper creampie
After getting her man rock-hard with her expert stroked, the massive-bellied BBW lies down on her back. Feeling as if he owes her some pleasure back, her BF reaches for her cunt. While he fingers her hole, he buries his face inside her many fat rolls. Next, the king-sized lass spreads her legs. And after bringing her feet together, the guy starts slamming her twat. The pummeling makes both of their meaty bodies jiggle around like jelly. Their final position for the night is doggystyle. And the man's hips have never moved faster in his entire life, as he delivers a good railing to his slutty girl, who is lying down on her knees and elbows. Now having reached his limit, he realises what he has to do. And after pumping her with a huge plumper creampie, he pulls out. Allowing the hot jizz to drip out of her muff.