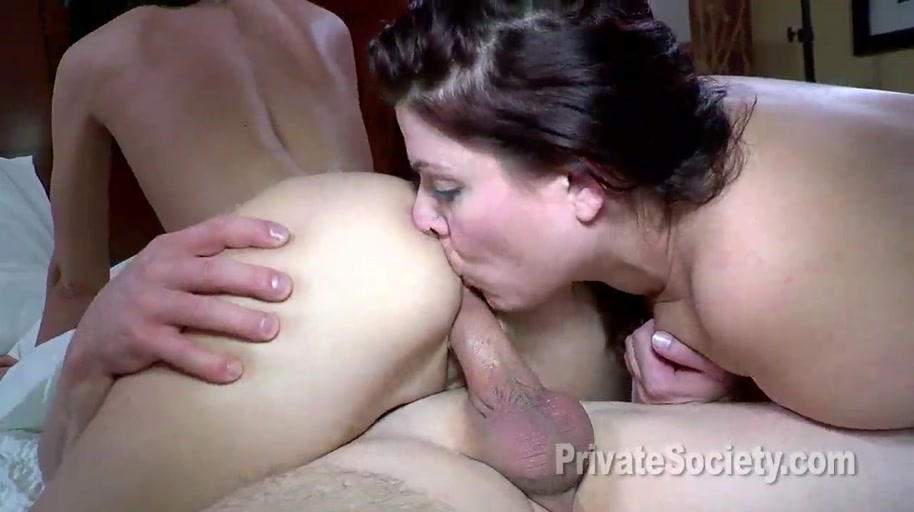 Naughty slender nympho invites her plumper girlfriend to share a big cock with her and receive her very first amateur BBW threesome creampie. The thin slut leads the way as she uses her mouth to prepare the stud tasked with delivering their pleasure tonight. The fat babe is shocked and impressed by her GF's shamelessly experienced rimjob, and she watches as the lewd chick's tongue makes quick work of the man's asshole. Luckily for the chap, this is just the beginning of what is most likely the best night of his life. He lies back and savours the gratifying feeling, as one girl sucks his cock while the other fingers his bunghole and nibbles on his ball sack. For what feels like the first time, he is truly in paradise. And just like his dick, his problems are melting away with every thrust and every move of the girls' lips.
A truly divine amateur BBW threesome creampie
The skinny goddess is relentless, and she won't rest until this feeling of intense pleasure engulfs every corner of her male partner's brain. And so, she continues to devour his butthole as he plows her fat friend's pussy. Not wanting to be left behind, the chunky beauty then offers her own oral services. So she gives him a blowjob as he locks lips with her cute BFF. Then, the lean cumslut bends over, allowing the shaft to fill her up in doggystyle, while her GF licks her pretty asshole. It is now the chubby lady's turn to take a drilling on all fours, and she excitedly bends over to receive her meaty reward. Finally, to end their steamy session of group sex, the two vixens position themselves in 69, and an amateur BBW threesome creampie soon follows. Thus putting a passionate gooey bow on this incredibly torrid night.